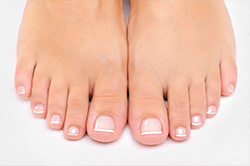 Do you suffer from unsightly nails? Keen to cover up a cosmetic defect or treat an infection without having to hide your feet away? Then Wilde-Pedique is a non-invasive solution for you!
Wilde Pedique is a very strong, elastic gel with antifungal properties which sets when exposed to UVA light. It has been developed especially for cosmetically correcting and restoring damaged toe nails. The temporary nail feels completely natural. The nail is built up in layers using the gel and is then shaped to create a natural looking nail over the damaged nail.
Who is Wilde-Pedique suitable for?
This treatment can help people with:
Discoloured (black or yellow) toenails
Fungal infections
Ingrown toenails
Recurrent sports injuries
Split or broken nails (where the nail could otherwise tear and cause damage)
Partially removed nails (through surgery or following corn removal)
Thick nails
It is suitable for both men and women, and can be used for teenagers as well, if appropriate.
Whilst many women prefer a shiny or classic French finish, the gel can be left with a more natural matt finish.
Why choose Wilde-Pedique?
Unlike other cosmetic varnishes and gels, this treatment does increase damage to the existing nail. It allows treatment to be applied to the original problem so that this has time to resolve itself whilst the feet are looking presentable. In addition, using the gel can allow the nail bed to be kept open during the period of re-growth, minimising the risk of ingrown toe nails.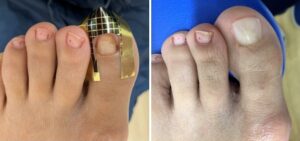 What does the process involve?
An initial podiatric assessment will be needed prior to a Wilde-Pedique treatment in order for the practitioner to assess and prepare the nail. The podiatrist may also suggest certain products to help treat the underlying nail condition.
Applying the gel nail will then require an appointment of up to an hour.
The gel nail grows out with the original nail, and can last for up to three months. However, in order to ensure a permanent and attractive result a six to eight weekly check up is recommended.
Are there cases where it may not be suitable?
For this nail reconstruction to be successful a quarter to half a nail must be present and well attached. This treatment is not suitable for patients with no nail present at all and we may advise against it in other cases as our primary focus is the long term welfare of your feet and nails.
In particular, where there is a smaller area to work with, the gel nail might not last as long as in regular cases. We would advise you of this as part of the initial assessment appointment. The treatment can however be useful in such cases if you are attending a special event.