Established in 2005, Tiptoe Foot Care initially worked from a variety of locations in Cockfosters, East Barnet and Palmers Green, it has grown to meet demand over the years and found a permanent home in New Southgate in 2012, providing foot-care and pain management to people across Hertfordshire, North London and surrounding counties!
Tiptoe's owner and head podiatrist, Afni Shah-Hamilton, has developed good links with the local hospitals, and works with nearby GPs and other healthcare professionals (e.g. osteopaths and physiotherapists) to ensure patients get the right care for them. Our patients' needs range from treatment of common foot problems such as verrucae, corns, ingrown toenails, fungal infections or simple foot/ankle pain to more specialist treatments and advice for diabetes and cancer sufferers. Our highly trained and passionate clinicians are also able to deliver reflexology, soothe hip or knee pain and provide nail reconstruction so that you can leave us with improved well-being.
Meet the team: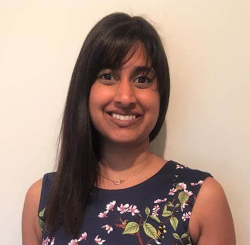 Afni Shah-Hamilton is a pain management specialist, who focuses on the biomechanics of the entire body. Afni has helped a large number of patients with unresolved (or in some cases previously undetected) problems with the toes, foot or ankle that were causing long term knee, hip, back or neck pain.
Afni also specialises in helping patients to understand and manage the impact of diabetes and cancer treatments on the feet and legs, including the treatment of ulceration. Her expertise in the role of podiatry in cancer treatment is reflected in the fact she sits on the Macmillan Cancer Support Allied Health Advisory Board and this year, has written a series of award winning articles in the Podiatry Review, the quarterly journal produced by the Institute of Chiropodists and Podiatrists (see link).
Afni has further broadened her knowledge by studying a range of related areas including systematic kinesiology, Anatomy in Motion (AiM) and Adaptable Polarity, which all focus on how the whole body's movement, using this as a key to identify the root cause of long term joint pain and mobility issues. Afni has also been trained in acupuncture to help treat conditions of the lower limb such as painful plantar fasciitis.
As well as her award winning articles about podiatric issues for cancer sufferers she has written a blog on the subject of children's foot health inspired by her two young children and the common (and some times avoidable) foot problems she sees on the school run and participated in online webinars.
Afni graduated from University College London in Podiatry BSC (Hons) and completed her master´s degree at Kings College London. She previously worked for Southwark Foot Health Department in conjunction with Guy´s and King´s College Hospital as well as working for the Society of Chiropodists and Podiatrists (now the Royal College of Podiatry) as a Learning fund Project Worker, promoting learning and development across the profession and has recently been awarded a fellowship with The Institute of Chiropodists & Podiatrists.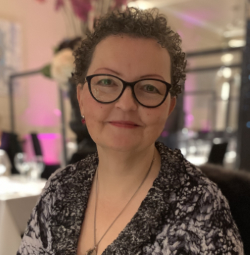 Marie is an experienced podiatrist who now runs our Monday afternoon/evening clinic.  She qualified from the University of East London in 2012 and has particular expertise in pharmacology, with a degree from King's College London in pharmaceutical sciences.
Marie has an interest in diabetic care covering vascular and wound care.
Please book in with Marie for any of your foot health problems including but not limited to; fungal infections, ingrown toenails, athlete's foot and hard skin.
Marie is also able to provide Wilde-Pedique nail reconstruction.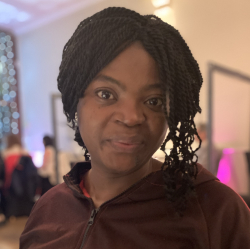 Deborah Kareem joined Tiptoe in June 2016 with experience from practicing in both the NHS and private sectors. She has always been interested in a medical career and qualified as a podiatrist at the University of East London.
Deborah is interested in the full range of diverse foot problems, and so uses her wide ranging theoretical knowledge and understanding when assessing the condition of a patient's feet and ankles/lower legs. This helps her to identify and recommend treatment for flat feet and high arches, bunions, calluses, corns and verrucae. She also has interest in other foot pain and sports injuries as well as providing
Wilde-Pedique
nail reconstruction.
Focused on agreeing a treatment plan that suits her patient's concerns and lifestyle and that will try and prevent or reduce future problems, Deborah continuously improves her own knowledge through reading journals and attending conferences as part of her ongoing professional development.
Whilst not podiatrists, our receptionists, Ruth and Anne, are integral members of the team and always keen to help.  Please feel free to give them a call for further information,  if you need to reschedule your appointment, or even if you just need directions from New Southgate or Arnos Grove tube stations!