Our podiatrists treat the full range of toe, foot, ankle and knee problems as shown by the list below – whatever's troubling you we are here to help!
What we treat
We treat all of the following:
Ankle pain
Blisters
Bruised Toenails
Bunions
Callouses
Corns
Flat Feet
Gait Analysis
Hard Skin
Knee Problems
Metatarsalgia
Medical Acupuncture on legs and feet (primarily for sports injuries)
Plantar Fasciitis
Rheumatoid Arthritis sufferers
Running Shoe Advice/Exercise
Ulcers
How we treat
Initial appointments will include a full medical history, assessment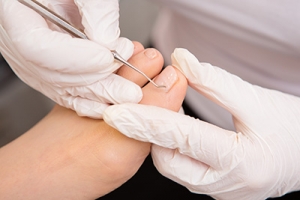 and, as far as possible, treatment (although we can't always fix long standing problems in just one session!)
As part of your assessment we will also design a personal treatment plan for you to follow.  We work hard to try and find an approach that will meet your needs and lifestyle in an effort to give you the best possible results within the constraints of what you might realistically be able to achieve.  We know there's no point suggesting a plan that relies on complete rest for someone on their feet all day at work!
We will therefore work with you to restore and maintain comfort, function, and a great appearance to your feet as soon as possible. Our staff will advise you on all aspects of your treatment from tips to prevent the spread of infections and exercises you can do at home to (where appropriate) surgery, medications, physical therapy and/or the use of custom made orthotics for treatment of your foot problems.
For ingrown or ingrowing toenails we will try to resolve the problem without surgery where the problem is caught early enough but in more severe cases we can provide nail surgery under local anaesthetic.  As ingrowing toenails often lead to other problems such as infections and changes in posture or walking pattern (contributing to hard skin or knee pain) we will work with you to decide the best form of treatment and look to prioritise the most urgent problem.
Finally, we may suggest seeing another specialist if we feel you will benefit from alternative treatment.  We work closely with a number of local osteopaths and physiotherapists to help ensure our patients can receive joined up advice and the best overall treatment plan.